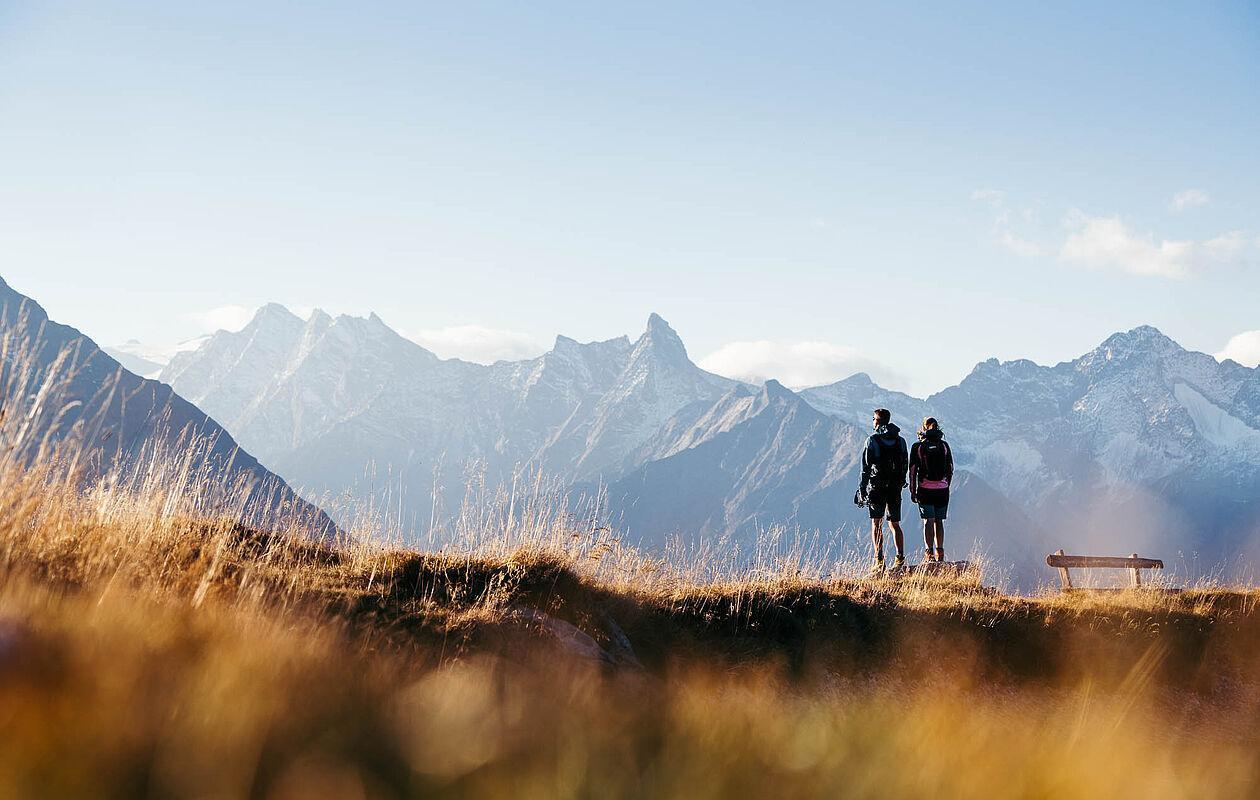 Summer
Sport, fun and nature in the Zillertal
Take a holiday in Kaltenbach and experience the benefits of the Zillertal mountains. The summer holiday in Tyrol allows a varied activity program in the fresh air, in the middle of the beautiful nature.
Fantastic lakes and swimming pools


Do you know the largest lake in Tyrol?
The Achensee - on a hot summer day there is nothing better than a dip in the cool water. Whether a voyage of discovery on a boat trip, indulging in a refreshing dip or simply relaxing in the sun. There are plenty of outdoor swimming pools and bathing lakes in the Zillertal. Whether for sporty swimmers, sun worshipers or for families - there is guaranteed to be the right thing for you!

The most beautiful outdoor pools in the Zillertal:
The impressive natural backdrop and the well-developed network of routes and trails make all cycling hearts beat faster, from leisurely family tours to professional riders. Over 800 km of extended bike and cycle tours invite you to experience the unmistakable mountain panorama of the Zillertal with its 55 three-thousand-meter peaks from the saddle. Of course we are happy to organize top modern e-bikes for you through our partner company Sport Stock, so the variety of bike tours is almost limitless!
NEW! For all downhill lovers there is no better starting point. The route to the Hochzillertal Single Trailis right next to our apartment house. The newly created course is for beginners who are enthusiastic about sports but also for true experts in the scene. You can find more information about the single trails here.
Do you know the Instagram hotspot in the Alps? The Olperer Bridge is an absolute must for an active holiday in the Zillertal.
Unlimited variety - with its numerous hiking trails, the Zillertal offers appropriate hikes for every level. Whether you want to enjoy leisurely hikes on the valley floor, mountain hikes or a summit conquest, you can do everything here. You can also take part in a guided hike with your host and certified mountain guide Stephan Haas. He shows you the most beautiful places of strength in the Zillertal.
For those who would like to be more comfortable - our 10 summer mountain railways will get you off to the perfect start for your hike with or without a summit conquest. Tip: The Zillertal Activ Card includes numerous summer railways and this summer card offers many other plus points!
If you are looking for the Andrenalin kick in the mountains?
Then you are in the right place in the Zillertal - the open air academy offers fascinating canyoning tours in the Zemmschlucht - the breathtaking Blue Lagoon, as well as rafting, tubing at the Ziller. If you want to go high, you can fly with the Stocky Air at the tandem flying and view the most active valley from a bird's eye view. 'Pure adrenaline is also guaranteed in the numerous Skyliner offers and action and climbing parks in any case.